2018 Mentoring Recipients – Biographies
2018 Mentoring Recipients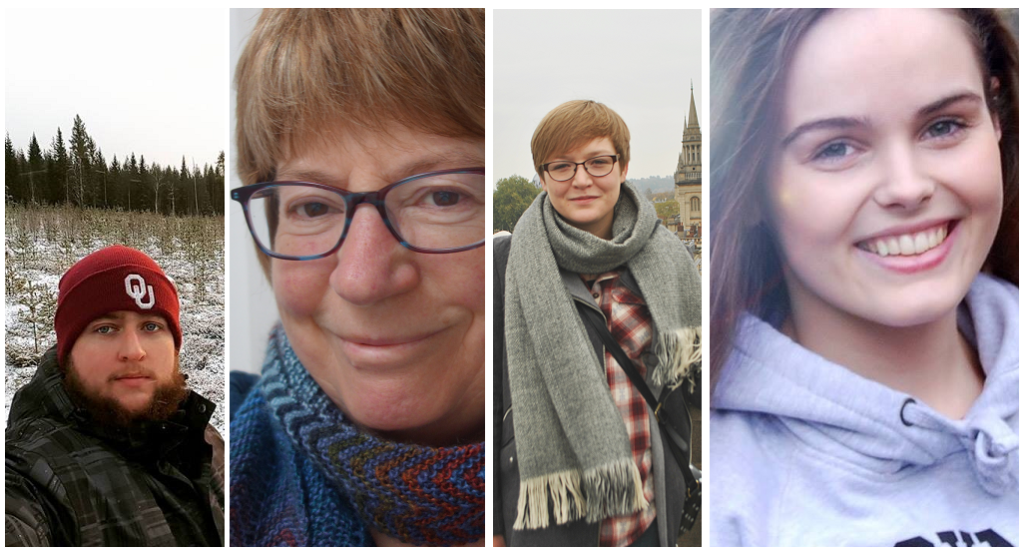 Mentoring Scheme Recipients
Euros ap Hywel
Euros ap Hywel was born and raised in Cardiff. He graduated from Aberystwyth University in 2013 with a degree in Welsh. After graduating, he worked for Cymdeithas yr Iaith (the Welsh Language Society), RSPB Cymru, then as a dog sled musher in Sweden. He now lives in Anglesey and is a Welsh for Adults e-Tutor at Bangor University.
Euros is a naturalist, adventurer and translator. He has lived in many different countries and enjoys travelling; he hopes to draw on his experiences in these locations in his written work.
Euros enjoys fantasy novels, and is a great fan of Tolkein, C.S. Lewis and Terry Brooks.
Twitter: @Euros92
Cath Barton
Cath Barton is an English-born writer of prose who has lived in Abergavenny since 2006. She won the New Welsh Writing AmeriCymru Prize for the Novella 2017 for The Plankton Collector, which will be published in 2018 by New Welsh Review under their Rarebyte imprint.
She particularly likes to use visual images as prompts for her writing and is currently working on a collection of short stories inspired by the work of the sixteenth century Dutch artist Hieronymus Bosch.
Active in the online flash fiction community, she is also a regular contributor to the online critical hub Wales Arts Review.
Cathbarton.com
Twitter: @CathBarton1
Ellen Davies
Ellen Davies is a poet from the Rhondda. She has a BA in English Literature and an MA in Creative Writing from Cardiff University.
Ellen's work has appeared in a variety of magazines and journals including Envoi, Popshot Magazine and The Lonely Crowd, among others.
Ellen's debut pamphlet, Accent, was published by Cinnamon Press in May 2015, and she is currently working on her first full length poetry collection.
Twitter: @Ellendaviespoet
Rhiannon Lloyd Williams
Rhiannon Lloyd Williams was born in Bristol and raised in Cardiff. She graduated from Bangor University 2017 with a degree in Welsh, where she won the Sir John Morris Jones Prize. She now works as a researcher for the television company Boom Cymru.
Rhiannon has published short stories and flash fiction on the literary websites Y Neuadd and Y Stamp, and has contributed to the Stori Tic Toc series on BBC Radio Cymru.
Her favourite genre is sci-fi, and her goal is to write a sci-fi novel for young adults. The Mentoring Scheme will be invaluable to her as she composes her first novel.
Twitter: @Rhiannonydwi
They will be joined on the Mentoring Scheme by the following Writers' Bursaries Recipients:
Briony Collins
Briony Collins is an award-winning writer and Bangor University student. Though she has always been a storyteller, her writing career began at the age of 21, when she won the 2016 Exeter Novel Prize for her unpublished debut novel Raise Them Up.
She uses her work to campaign for human rights. This theme is also shown in her poetry, for which she has received tutoring by both Poet Laureate Carol Ann Duffy and Gillian Clarke.
Briony is now represented by DHH Literary Agency, and spends her time juggling university life with a promising writing career.
Twitter: @ri_collins
William Gwyn
Originally from Anglesey, William Gwyn has lived in Cardiff for over 25 years. He studied Welsh at Aberystwyth University and went on to earn his living through creative writing, mainly by contributing to the Welsh-language soap opera Pobol y Cwm, on which he's also worked as Script Editor and Producer.
Alongside his scriptwriting work, William has been studying French and English with the Open University on a part-time basis since 2013. The idea of nurturing a new, different voice in a second language is one that appeals to William, which has led him to explore creative writing in English.
Twitter: @NawdegUn
Iwan Huws
Iwan Huws is a musician and translator (and every now and again, a waiter). He began adapting children's books into Welsh last year, and is now keen to publish his own stories for children and young people.
Originally from the Llŷn Peninsula, Iwan now lives in Cardiff with his family.
Twitter: @LlanwMawrHallt 
Joanna Jones
Joanna Jones worked backstage in theatre, studied a BA in International Politics, and crewed international sporting events before becoming a bookseller and Masters student in Aberystwyth.
Born in south Wales, Joanna has lived, worked and studied in New Mexico, Finland, and Bolivia. She has published poetry in Popshot magazine, the Aval-Ballan gallery, and an anthology entitled Sisters Lost, Sisters Found, and was nominated for the Forward Prize (single poem) in 2014.
Joanna hopes to use the New Writer's  Bursary to work on her first novel: a YA murder mystery novel set in a fictionalised Orkney in the '90s.
Twitter: @mojanna_elise
Jemima Roberts
Jemima Roberts is a writer and poet who hails from the Hafod Estate in Mid Wales. She has been writing since her early teens and in 2009, was selected to participate in the inaugural Faber & Faber poetry course. She has been performing her work around the world ever since – on land and at sea.
For the last 5 years she has been raising her son full-time – and writing on slips of paper in snippets of time. 2018 sees her re-emerge from the cocoon of early motherhood and back out into the lights of the world.
Alongside other commitments, she will be taking up a writer in residency post at Aberystwyth Arts Centre.
Thatjemimaroberts.wordpress.com
Twitter: @jemima_roberts
Elizabeth Wilson
Elizabeth Wilson is a Professor Emeritus of the University of Wales Trinity Saint David. Having graduated in Humanities from the Open University, she is deeply committed to widening access to higher education through part-time study.
She was supported by the Open University Crowther Fund to complete a PhD in Post-colonial Literature, specialising in anglophone Caribbean poetry.
She completed an MA in Creative Writing in 2013 which inspired her to write poetry in preference to studying it, and will use the Literature Wales New Writer's Bursary to develop her first collection. Elizabeth lives on the Pembrokeshire coast.
Back to Mentoring