Writers' Bursaries Recipients 2020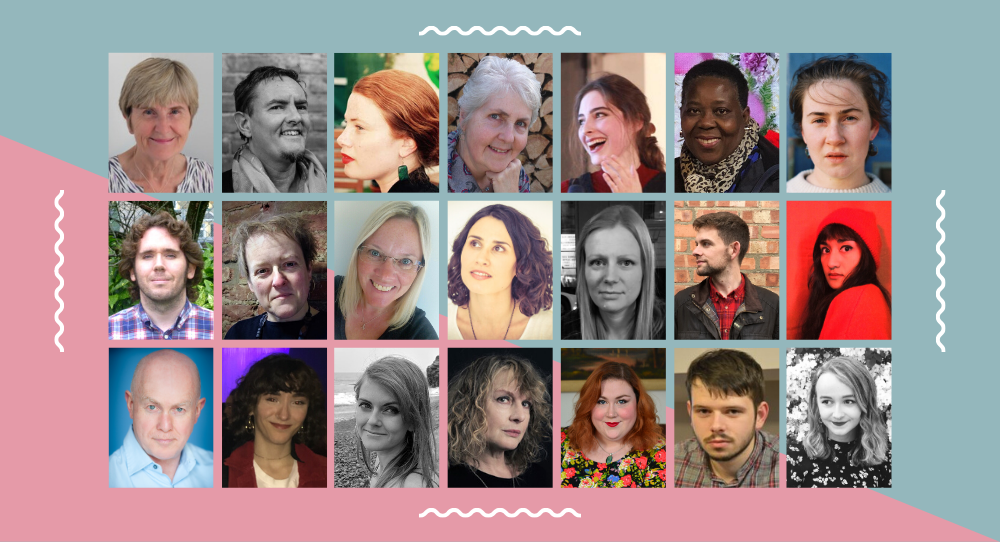 Luned Aaron
Luned Aaron is an author and visual artist. She gained a BA in Theatre Studies from the University of Wales, Aberystwyth, before studying at the European Film College in Denmark. She went on to gain a Masters in Theatre Design at the Royal Welsh College of Music and Drama. She won the Urdd Eisteddfod's Drama Medal three times and has focused on writing for the stage, radio and screen while training and lecturing in this field. She has also worked for television companies, presenting the series Y Sioe Gelf, (Cwmni Da). More recently, she moved into publishing and in 2017 won the Tir na n-Og Award for her first volume, ABC Byd Natur (Gwasg Carreg Gwalch). The Writer's Bursary will help her to complete a new novel for children.
Rachel Dawson
Rachel Dawson is from Swansea. After studying English Literature at Cardiff University, her first paid job was in a women's refuge. She currently works for a mental health charity, living in Cardiff with her wife. When she is not writing, she is usually cooking. Rachel is working on a novel set during the politically and culturally turbulent 1980s. She is inspired by the resilience of our queer ancestors, and the joy of loving other women.  She will use her bursary to create space to write, to conduct additional interviews with contemporaries of the time, and to visit further relevant archives.
Instagram: @RachelDawsonWrites
Mari Ellis Dunning
Mari Ellis Dunning's poetry and stories have been published in several journals and anthologies. In 2016, she won the Terry Hetherington Young Writers Award and her poem 'The Grey Mare' won the Seren Books Christmas Poetry Competition in 2017. Her first children's book, Percy the Pompom Bear, was launched at the Abergavenny Writing Festival in 2016. Mari's debut poetry collection, Salacia, was published by Parthian Books in 2018, and was shortlisted for the Wales Book of the Year award in 2019. She is a Hay Festival Writer at Work and PhD candidate at Aberystwyth University.
Twitter: @mariiellis
Instagram: @mariellisdunning
Jonathan Edwards
Jonathan Edwards' first collection of poems, My Family and Other Superheroes (Seren, 2014), received the 2014 Costa Poetry Award and the 2015 Wales Book of the Year People's Choice Award; it was shortlisted for the Fenton Aldeburgh First Collection Prize. His second collection, Gen (Seren, 2018), also received the 2019 Wales Book of the Year People's Choice Award, and in 2019 his poem about Newport Bridge was shortlisted for the Forward Prize for Best Single Poem. Jonathan is the editor of Poetry Wales and a Gladstone's Library Writer-in-Residence for 2020. He lives in Crosskeys, south Wales.
Sadia Pineda Hameed
Sadia Pineda Hameed is an artist and writer living in Cardiff. Her practice revolves around irrational forms of communication; within dreams, across ancestry and through intuitive processes; as a means of enshrining our histories. Her Writer's Bursary will be supporting the development of an experimental and auto-fictive work, To Make Philippines. Sadia co-runs LUMIN, Wales' only experimental independent press for predominantly marginalised writers and artists in Wales and wider. She has been published by Porridge Magazine, Amberflora, and Zarf amongst others; and has an early iteration of To Make Philippines forthcoming in an anthology with Parthian (2020).
Twitter: @piffspice
Instagram: @piffspice
Megan Angharad Hunter
Megan Angharad Hunter is from Penygroes, Nantlle Valley, but she is now in her first year studying Welsh and Philosophy at Cardiff University. Prior to that, she studied at Dyffryn Nantlle Secondary School and she would like to thank her teachers in the Welsh department there for encouraging her to compete in local eisteddfods, where she developed her confidence as a potential author. When she has time after her university studies, she enjoys creative writing and has completed a draft of a novel for young adults. As well as writing, she enjoys composing and performing music and she plays the flute in the Cardiff University Jazz Orchestra.
Trydar: @megan_angharad
Instagram: @meganangharad
Angela V. John
Angela V. John was, for many years, professor of History at the University of Greenwich. She lives in Pembrokeshire and is an honorary professor at Swansea University. She has published a dozen books, ranging from academic monographs on women's history to an award-winning children's book and a study of the profusion of actors from her hometown Port Talbot.  She now focuses primarily on biographical writing. Her subjects include Lady Rhondda, the war correspondent Henry W. Nevinson and actress Elizabeth Robins. Her volume of biographical essays: Rocking the Boat: Welsh Women who Championed Equality 1840-1990 appeared in 2018 (paperback, 2019).
Twitter: @jlgeorgewrites
Sharon Marie Jones
Sharon Marie Jones lives outside Aberystwyth. She is married and is mam to three sons. She grew up in mountainous North Wales, listening in wide-eyed wonderment to folk tales about giants and fairies. She graduated from Aberystwyth University and worked as a primary school teacher for thirteen years, before becoming a full-time author. She has two children's books published with Firefly Press: Grace-Ella: Spells for Beginners and Grace-Ella: Witch Camp. The Writer's Bursary will allow her to work on a new children's book. When not writing, she can be found reading, running or sleeping.
Twitter: @sharonmariej
Catrin Kean
Catrin Kean's short stories have been published in Riptide Journal, Bridge House Anthologies, and The Ghastling, and shortlisted for the Fish Prize. She was selected for the Hay Festival Writers at Work scheme in 2016 – 2018. In 2019 she was awarded an author's advance award from the Books Council of Wales for her first novel, SALT, which will be published by Gwasg Gomer in spring 2020. She lives in Cardiff with her partner and her two ridgeback dogs.
Instagram: @catrinkean
Faye Latham
Faye's poetry explores the relationships between people, place and language. Her work is inspired by Welsh landscapes and in her free time she enjoys climbing and fell running near her home in Snowdonia. Faye has performed her poetry at the Kendal Mountain Literature Festival and works as a writer and blog editor for Intrepid, a female-first outdoors magazine. Faye graduated from the University of Bristol with a degree in English, before completing an MA in History of Art in 2019. A Writer's Bursary will enable her to develop her first poetry collection.
Bev Lennon
Bev hails from south London and moved to Barry in 1987. She started learning Welsh in early 1990.  Radio credits include: 'Learning Welsh' on BBC 'Catchphrase' and having her own show 'Bev'.  By 1997, she gained her BA Ed. Her debut TV Comedy sketch was commissioned by 'The Real McCoy' (BBC). She features in The Joke's On Us by Pandora Press. Her poem 'The Consultation' is in an anthology Allan o'r Golwg (Disability Arts Cymru). Bev was honoured with the Gwisg Las in the National Eisteddfod 2019. Bev practices Mindfulness and also enjoys creative writing. She is a Supply Teacher of Welsh.
Geraint Lewis
Geraint Lewis hails from Tregaron, Ceredigion. He graduated with a degree in English and Drama from the University of Wales, Aberystwyth. He has published three novels, X, Daw Eto Haul and Haf o Hyd, all with Gwasg Carreg Gwalch, and two short story collections, Y Malwod (Annwn) and Brodyr a Chwiorydd (Y Lolfa). He won the Allen Raine Society Short Story Prize and he was the first winner of the Tony Bianchi Memorial Prize in 2019. He has written extensively for the theatre, radio and television and enjoys being a member of the writing team for Pobol y Cwm. He lives in Cardiff with his wife Siân.
Website: www.geraintlewis.net
Twitter: @GeraintTregaron
Efa Lois
Efa Lois is an artist and author from Wales. She won the National Eisteddfod's Architecture Scholarship in 2016, the Urdd Eisteddfod's Art Scholarship in 2018, and the Urdd Eisteddfod's Geraint George Scholarship in 2019. In 2017, she established the Prosiect Drudwen blog, which documents the forgotten women of Welsh history. Since the start of the blog, more than 60 women have been featured on the website. Efa is keen to develop a graphic novel to celebrate the life of one of the forgotten women of Welsh history. She now lives in Cardiff.
Website: www.efalois.cymru
Twitter: @efalois
Instagram: @efalois
Elan Grug Muse
Mae Grug Muse yn fardd, golygydd, ymchwilydd ac addysgwraig. Mae'n un o sylfaenwyr a golygyddion cylchgrawn Y Stamp ac fe gyhoeddwyd ei chyfrol gyntaf, Ar Ddisberod, gyda Barddas yn 2017. Mae ei gwaith wedi ei gyhoeddi mewn cyhoeddiadau yn cynnwys O'r Pedwar Gwynt, Codi Pais, Poetry Wales, Panorama: the journal of intelligent travel ac eraill. Roedd yn un o Awduron Wrth eu Gwaith Gŵyl y Gelli 2018-19, ac fe enillodd y Gadair yn Eisteddfod Genedlaethol yr Urdd yn 2013, a Chadair yr Eisteddfod ryng-golegol yn 2019. Mae hi wrthi'n cwblhau doethuriaeth ym Mhrifysgol Abertawe ar lenyddiaeth deithio Gymraeg.
Grug Muse is a poet, editor, researcher, and educator. She is one of the founders and editors of Y Stamp magazine and her she published her first volume, Ar Ddisberod, with Barddas in 2017. Her work has been presented in publications including O'r Pedwar Gwynt, Codi Pais, Poetry Wales, Panorama: the journal of intelligent travel and others. She was one of the Hay Festival 2018-19 Writers at Work. She won the Chair at the Urdd National Eisteddfod in 2013 and the Chair of the inter-collegiate Eisteddfod in 2019. She is currently completing a doctorate at Swansea University on Welsh travel literature.
Twitter: @elan_grug
Instagram: @elangrug
Karen Owen
Karen Owen has travelled the world performing her poems, but her next collection will not focus on a single place, but rather on the condition and state of the individual. The poet and journalist from the Nantlle Valley intends to complete a series of poems that look at the world from the perspective of one voice in the crowd during her bursary year. The title of the work will be Fy Iawn Dwyll and it will be a mix of measures, formal verse, free verse and prose rants. Karen has published two volumes of poetry – Yn Fy Lle (2006) and Siarad Trwy'i Het (2011) as well as the volume Glaniad (2015) created in collaboration with Mererid Hopwood, after the two crossed the plains of Patagonia together. Karen has also published three CDs of her poems – Lein a bît yng nghalon bardd (2016), 7 Llais (2017) and Dedwydd a Diriaid (2019). She won the Poetry Book of the Year and People's Choice Award in Wales Book of the Year 2012. She was part of the Her 100 Cerdd Literature Wales project in 2017. She also won the Llwyd o'r Bryn Memorial Prize at the Cardiff National Eisteddfod in 2018.
Morgan Owen
Morgan Owen is a poet and writer from Merthyr Tydfil. In 2019, he won the Michael Marks Poetry in a Celtic Language Award. He is a regular contributor to Welsh language publications such as O'r Pedwar Gwynt and Y Stamp, and he is part of the Hay Festival Writers at Work scheme. Last year, he published two collections of poetry, moroedd/dŵr and Bedwen ar y lloer, with Cyhoeddiadau'r Stamp. In 2019, he won the Wales Literature Exchange Translation Challenge. He has taken part in Literature Wales' Her 100 Cerdd and has been a Poet of the Month on BBC Radio Cymru. He lives in Cardiff and works as a freelancer.
Twitter @morgowen
Rebecca Parfitt
Rebecca Parfitt has published stories, poetry and articles widely. Her debut poetry collection, The Days After, was published by Listen Softly London in 2017. She was a recipient of the Hay Festival Writer at Work residency. She was shortlisted for the Cinnamon Press debut fiction award in 2018 for her short story collection of dark and disquieting tales, Skin Mannequin & Other Macabres. The Writer's Bursary will allow her much needed time to complete the collection. She is founder and editor of The Ghastling magazine. She lives in the wilds of south Wales with her partner and little girl.
Website: rebeccaparfitt.com
Twitter: @EditorRebecca
Instagram: @rlhparfitt
Llŷr Titus
Llŷr Titus is a writer and playwright from Brynmawr. He is one of the founders and editors of the literary magazine and website Y Stamp and one of the three founders of Cwmni Tebot, a community theatre company based in Llŷn. His science fiction novel for young people Gwalia won the Tir na n-Og Award in 2016 and in the same year he received the Best Playwright in the Welsh Language prize in the Wales Theatre Awards for the script of his play Drych. He has also worked as a freelance writer for the children's series Deian a Loli and is a PhD student in the School of Welsh and Celtic Studies at Bangor University.
Angharad Tomos
Angharad Tomos grew up in the Nantlle Valley, where she has been an author for more than forty years. She wrote and illustrated the Rwdlan Series for children. She twice won the Prose Medal at the Eisteddfod with Si Hei Lwli (1991) and Wele'n Gwawrio (1997). She has been writing a column for the Herald Cymraeg for more than quarter of a century. She is a former Chair of the Welsh Language Society, married, and a mother to Hedydd. She travels around schools and societies sharing her interest in creative writing. She is the author of several plays and during the past decade has focused on writing for young people.
Rhys Trimble
Rhys Trimble is a bilingual poet, text artist, visual artist, improvisatory-performer, vocalist, drummer, editor, punk, critic, collaborator, translator, shaman, avant bard(d) staff-wielder, word-terrorist and shoutyman based in Wales. Trimble is interested in avant-garde and Welsh metrics. He is the author of 12 or more books and has performed in countries around the world including the USA and Jamaica. Work by Trimble is translated into Slovakian, Spanish, Polish, Croatian, Galician, Latvian, Turkish and Irish.
Website: www.rhystrimble.com
Twitter: @rhystrimble
Instagram: rhystrimble
Laura Wainwright
Laura Wainwright was born in Cardiff and grew up in Newport, where she still lives. She is the author of a book of literary criticism, New Territories in Modernism: Anglophone Welsh Writing 1930-1949 (University of Wales Press, 2018). She was shortlisted in the Bridport Prize poetry competition in 2013 and 2019. Her poems have been widely published in magazines and journals. The Literature Wales Writer's bursary will enable her to finish writing her first poetry collection.
Twitter: @wainwrightlj
Back to Writers' Bursaries