We increase the accessibility and impact of creative writing for participants in Wales in order to inspire some of our most marginalised individuals and communities through active participation in literature.
Each year, over 90,000 people engage in a Literature Wales delivered or supported activity in Wales and beyond. Our workshops, events and projects increase skills, decrease social and economic barriers, and use the spoken and written word to improve, empower and brighten the lives of our audiences.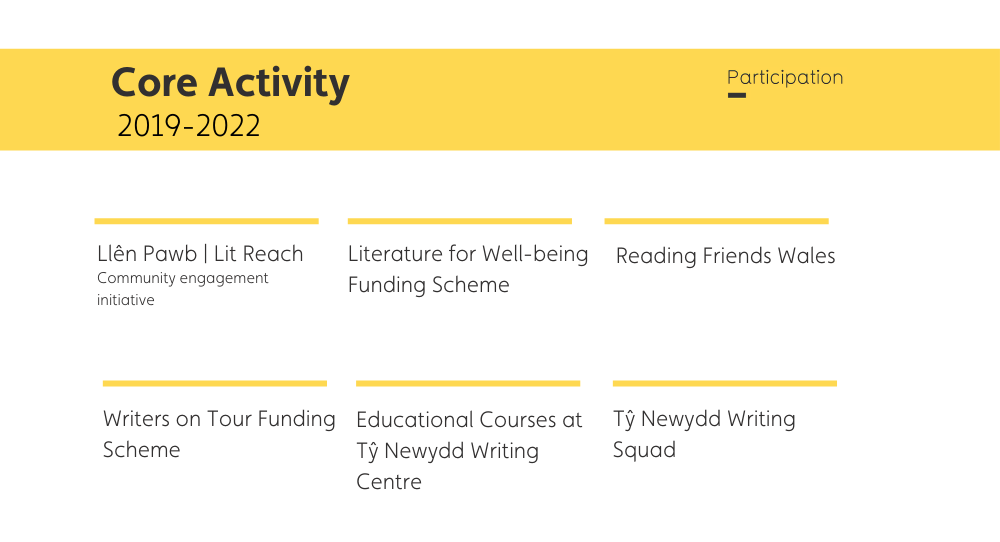 ---
Activity Highlight:

 
Llên Pawb | Lit Reach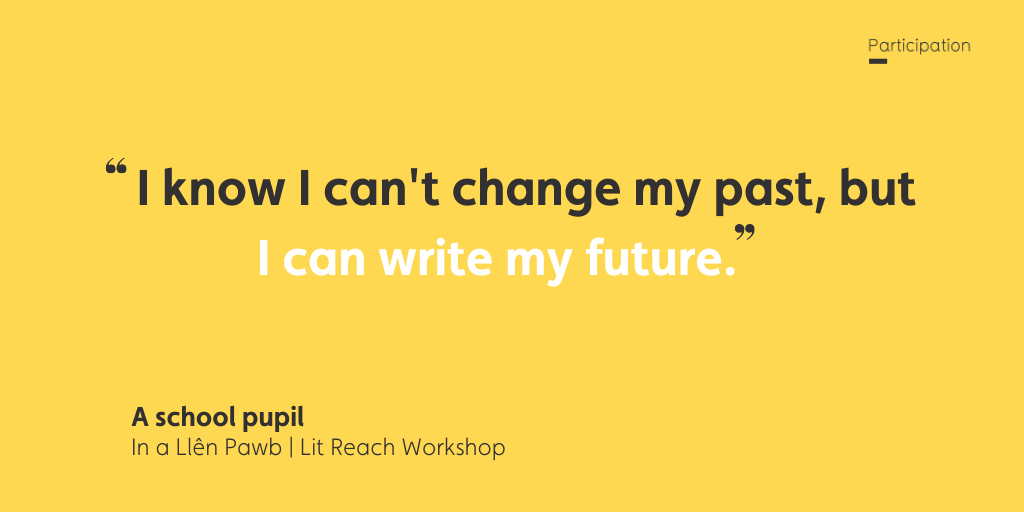 The Lit Reach community engagement initiative is delivered by Literature Wales in partnership with a variety of organisations. The workshops, tailored to and by participant needs, increase individuals' skills literacy, public speaking, self-reflection and personal confidence. 
In 2018-19, Lit Reach delivered over 190 workshops across Wales and engaged with over 2,800 individuals. Over £30,000 was spent on artist fees through the Lit Reach Programme. Lit Reach supported reflective practitioner practice and provided 16 of the artists who engaged with continued professional development support.
The project pairs a writer or artists with a community group that will benefit from engaging with literature and creative writing. For example, in collaboration with Port Talbot & Afan Women's Aid Poet, Rufus Mufasa, led a series of Lit Reach workshops with women from the LIFE Survivors Network to create poems and songs inspired by their experiences for their annual fashion show. The majority of the group hadn't actively participated in a literary since school, and others had never read a poem out loud. The workshops used creative writing to offer the women an alternative mode of expression. A staff member from Port Talbot & Afan Women's Aid Poet told us that:
"The ladies leave the workshops a little bit taller each week."
Lit Reach has also contributed to the wider Arts Sector in Wales by:
Providing a flagship example of participatory work which delivers measurable, targeted outcomes, raising the standards of others' work through transferable best-practices
Inspiring future deployment of the arts to tackle poverty by non-arts organisations, thereby strengthening the perceived value of the sector among the public and government.
Providing training and participatory experiences for a range of literary artists, all of whom will work on other cross artform projects: enabling another route for knowledge and skills transfer.
"Magical workshops. I want to learn more. It's been fun and I didn't know poetry didn't have to rhyme. I enjoyed signing, learnt more words… I didn't know I could do it."

A participant who took part a Lit Reach Project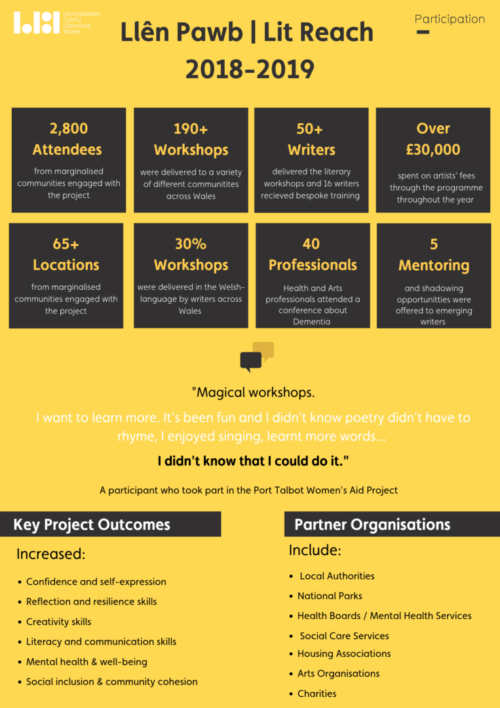 Click here to read Lit Reach Case Studies 2018-2019
---
Activity Highlight:

 
Young Writers Residency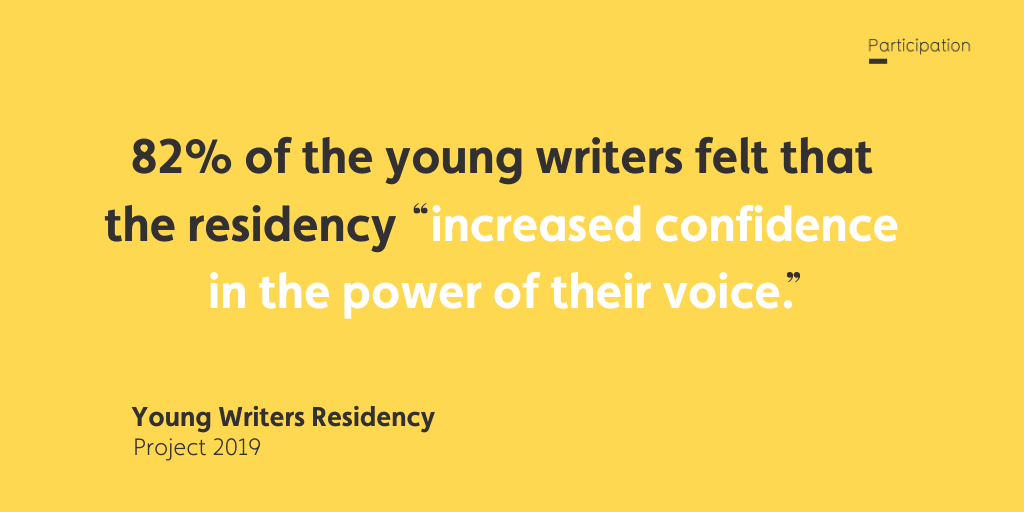 Between March 2018 and March 2019 Young Writers' Residencies took place across five Heritage sites (two National Trust – Tredegar House and Chirk Castle and two Cadw – Blaenavon Ironworks and Plas Mawr with one joint site, Dinefwr Country House and Castle) and worked with 64 young people aged 14 and older supported by writers Sophie McKeand and clare e. potter and drama practitioner Llinos Jones.
With an increasing number of young people in Wales living in poverty, and worrying mental health statistics, it's wonderful to see positive evidence of the impact of literary interventions, including: marked increases in young participants' educational engagement and 82% of young writers feeling "increased confidence in the power of their voice".
Young Writers' Residencies were delivered in partnership with The National Trust, Cadw and Theatr Genedlaethol Cymru.
Quotes from young people included:
"My voice sounded almost different, like a loud bird in the sky"

"Poetry is finding light in darkness"

"I was nervous at the start due to my dyslexia but I loved it"
The film link below was first screened as part of the 'Youth Voice' event at the Senedd on 2 July 2019, documenting the Dinefwr residency and the impact it had on the young people involved: