By supporting and advocating the various ways literature can contribute positively to the nation's health and well-being, we improve the lives of people in Wales.
Based on our understanding of the power of literature to improve and transform lives, and the need to focus our activities where they will have greatest impact,
Health & Well-being
 is one of our three Tactical Priorities. This is not a type of activity, but a theme that features in everything we deliver, and in our partnership and facilitation work.
---
Activity Highlight: 
Reading Friends Wales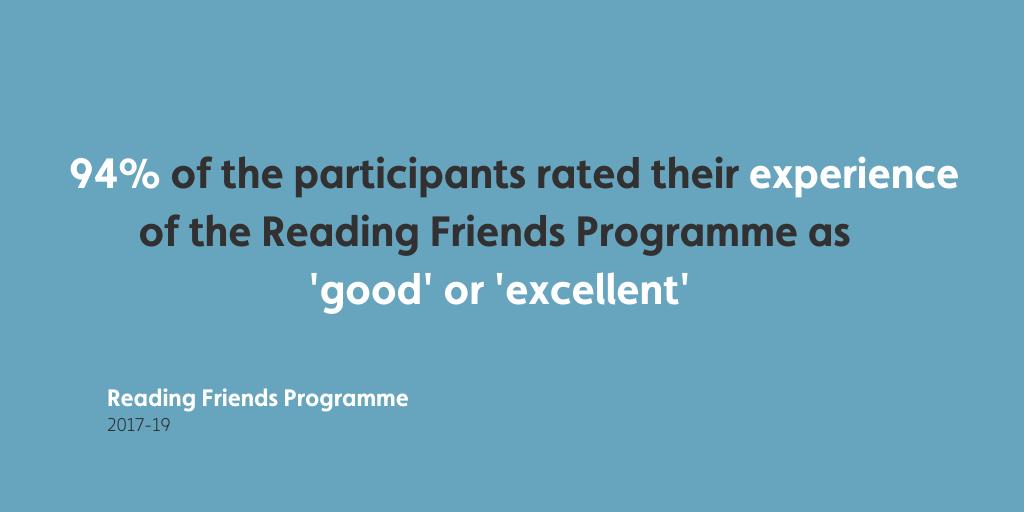 Literature Wales coordinates Reading Friends in Wales, a UK-Wide befriending project, funded by The National Lottery Community Fund, in collaboration with national partner, The Reading Agency. From winter 2019, Literature Wales is working in partnership with Conwy Library Service, Swansea Bay University Health Board (SBUHB), Aura Libraries in Flintshire and Cardiff Libraries to roll out Reading Friends in a variety of setting across Wales.
According to the Demos report, 'A Society of Readers', by 2030 there will be over 1.3 million people with Dementia, 11 million people living alone and over 7 million over 60's suffering from Loneliness, which is estimated to cost the Economy nearly £2 billion in additional health and care costs.
Reading Friends Wales aims to empower, engage and connect older people who are vulnerable and isolated, people with dementia, and carers by starting conversations through reading. As mentioned in the Demos report, the project bridges the gap between people, builds relationships and improves the health and well-being of those involved.
88% of participants said the programme increased their opportunities for social contact, whilst the same amount also believed the programme added "purpose" to their week.

Reading Friends Programme 
Between September 2018 and August 2019, 139 participants engaged with Reading Friends in Wales through 83 sessions that totaled to over 90 hours of activity. 128 of these individuals were care home participants (residents and day-centre visitors), as according to some studies, over half of care home residents without cognitive impairment feel lonely. The remaining participants were based at Singleton Hospital. Life on the wards can be a busy, but lonely place, and so Reading Friends has been essential in supporting patients to "come out of their shell and have a conversation that isn't about medicine", according to a staff nurse on Ward 7.
Working in partnership with Swansea University's Student Volunteering arm, Discovery and the hospital Volunteer programme, Reading Friends has also upskilled 32 volunteers by delivering training sessions that enhance their ability to safeguard vulnerable individuals. The programme has also supported the implementation of internal volunteering frameworks in partner organisations.
To ensure the programme could also benefit older people without access to transport, 11 individuals participated in one-to-one visits that were arranged in their homes. Jennifer Summers, a Reading Friend in Conwy, received regular visits from ,volunteer and local resident, Jasmine Kelly. When talking about her experience of the programme, Jennifer said:
"So much has been lost in the way of social interaction, so to have somebody come to replace the book groups that I used to participate in is invaluable'

Jennifer Summers, Reading Friend 
Further information about the UK-wide project is available on the Reading Friends website; sign up to the Reading Agency's dedicated Reading Friends newsletter; or contact us.