Children & Young People
By increasing accessibility to, and conveying the joy of creative writing and reading, we make a significant contribution to the well-being of the future generations of Wales.
Based on our understanding of the power of literature to improve and transform lives, and the need to focus our activities where they will have greatest impact,
Children and Young People
is one of our three Tactical Priorities. This is not a type of activity, but a theme that features in everything we deliver, and in our partnership and facilitation work. Since 1 April 2019,
over 20% of participants
that have engaged with a Literature Wales delivered or supported activity were children and young people.
---
Activity Highlight: 

Bardd Plant Cymru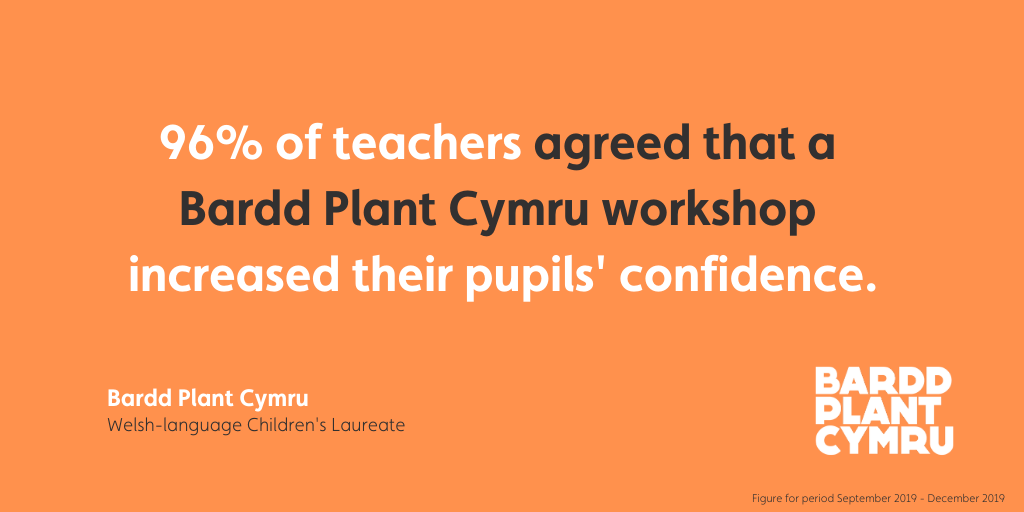 The Bardd Plant Cymru (Welsh-language Children's Laureate) project ensures that children between 5- 13 years old in Wales have the opportunity to experiment with Welsh literature. Through workshops, performances and activities, the project introduces literature to children in an energetic, dynamic and exciting way. The current Bardd Plant Cymru is Gruffudd Owen.
The project promotes creativity, communication skills and self-expression through the love of literature. Since September 2019, the scheme has engaged with over 420 children through school workshops. 94% of teachers agreed their pupils had fun at the Bardd Plant Cymru workshops. The pupils were exposed to new worlds, philosophies and cultures.
The scheme also aims to increase reading and writing for pleasure within schools and 88% of teachers that engaged with the project agreed the workshop inspired them to run more creative writing workshops with their pupils in the future. One teacher said:
"What a great workshop, full of excitement and energy that woke the minds of everyone in the class. Fantastic to see and hear about new techniques of writing poems. It was great to see Gruff incorporating the ideas and comments of every pupil so that they all felt ownership of the collaborative poems and made them unique to us."

A Dyffryn Banw School Teacher 
Literature Wales actively supports the Welsh Government's target of 1 million Welsh speakers by 2050 and aims to increase participants' multilingual skills. Bardd Plant Cymru activities are conducted through the medium of Welsh, but the scheme also provides for and engages with children whose first language is not Welsh. Since September 2019, 58% of the pupils that engaged with Bardd Plant Cymru were from non Welsh-speaking homes.
Although the Bardd Plant Cymru project predominantly delivers workshops in schools, it also engages with children outside the classroom and works with with a variety of partner organisations. In April 2019, Year 7 pupils from Ysgol Gymraeg Bro Teyrnon in Newport joined Bardd Plant Cymru 2017-19, Casia Wiliam, and the Wales squad to write a poem supporting Wales' UEFA Women's Euro 2021 qualifying campaign. 
Here's a video about the partnership between Literature Wales and the FAW:
The scheme is run by Literature Wales with the support of Welsh Government, S4C, Books Council of Wales and Urdd Gobaith Cymru. We share a belief that all children have the right to make their voices heard and to tell their stories, and that this pioneering project enables them to this.
There are several different strands to the scheme, including visits to schools and festivals, and writing commissioned poems. You can request a visit from Bardd Plant Cymru here. For all other enquiries please email barddplant@literaturewales.org or phone 029 2047 2266.