Fiction Award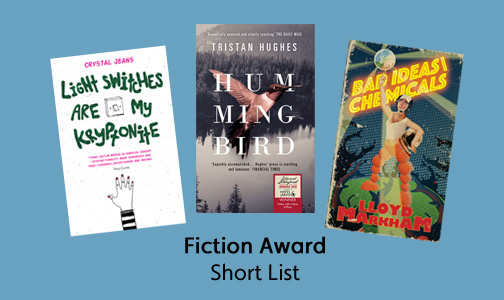 Hummingbird, Tristan Hughes (Parthian)
"What you could change and alter could never be finished or complete or dead. This is what I had been told back then, and what I had tried very hard to believe in since."
Beside a lake in the northern Canadian wilderness, fifteen-year-old Zachary Tayler lives a lonely and isolated life with his father. His only neighbours are a leech trapper, an eccentric millionaire, and an expert in snow. But then one summer the enigmatic and shape-shifting Eva Spiller arrives in search of the remains of her parents and together they embark on a strange and disconcerting journey of discovery.
Nothing at Sitting Down Lake is quite as it seems. The forest hides ruins and mysteries; the past can never be fully understood. And as Zach and Eva make their way through this haunted landscape, they move ever closer towards an acceptance of what in the end is lost and what can truly be found.
In his fourth novel, award-winning author Tristan Hughes returns to the landscape of his youth in this vivid and poetic coming-of-age story about death, life, and the changes they bring. Set against the harsh, unforgiving beauty of the forests of northern Ontario, Hummingbird unravels a moving tale of loss, absence, and redemption.
TRISTAN HUGHES was born in northern Ontario and brought up on the Welsh island of Ynys Mon. He is the author of three other novels, Eye Lake, Revenant, and Send My Cold Bones Home, as well as a collection of short stories, The Tower. He is a winner of the Rhys Davies Short Story Prize and is currently a senior lecturer in Creative Writing at Cardiff University.
Light Switches Are My Kryptonite, Crystal Jeans (Honno)
I started on light switches … I had to run my fingertip along every bit of the light switch – the edges, the corners, the button – in a particular order and pattern … If I didn't get it just right, maybe bad things would happen.
Sylvester spends a lot of time in his room, under the duvet, muttering his mantra – Timolol, Diclofenac, Alfacalcidol – and gluing glitter to the light switches. If he doesn't the evil witch might curse him, or his perverted thoughts be exposed for the world to see. Or maybe he's just being irrational…?
Forced back home to live with his dealer dad, Carl, Sylvester's imagination takes flight, along with his sanity. The next week is a roller coaster ride through OCD, paranoia, and psychedelia as Sylvester, Carl and Sylvester's fragile friend Patty negotiate a life which seems determined to push them to the limits.
Along the way there are laughs, horror and moments of tender compassion. And the story of what happened to Sylvester's mum, which has made him the young man he is: not quite broken, not quite fixed.
CRYSTAL JEANS was born and brought up in Cardiff. She lived in Bristol before doing first a Creative Writing BA then an MPhil at the University of Glamorgan. She is the author of two novels, Light Switches are My Kryptonite and The Vegetarian Tigers of Paradise. She has also written a collection of poetry about dementia (Mulfran Press). She has been shortlisted for the Bridport Prize (2010), had poetry published by Seren, and two short stories published by New Welsh Review.
Bad Ideas / Chemicals, Lloyd Markham (Parthian)
'Poignant, unnervingly funny and poetic' – Philip Gross
'a unique new voice.' – Rhys Thomas
Cassandra Fish believes she is out of this world, wearing her orange film-set spacesuit daily in the hope that her absent parents will return and take her back to her real planet. While she waits she accompanies her friends – frustrated musician Billy, the only open mic player in the town and the laddish, volatile Fox – from bar to nightclub – on one last great night out to drink, dance, take bad chemicals, have bad trips, have bad ideas, and do unthinkable things.
LLOYD MARKHAM was born in Johannesburg, South Africa, moving to and settling in Bridgend, South Wales when he was thirteen. He spent the rest of his teenage years miserable and strange and having bad nights out before undertaking a BA in Writing at Glamorgan followed by an MPhil. He enjoys noise music, Japanese animation and the documentaries of Adam Curtis. His favourite book is The Metamorphosis by Franz Kafka. He operates synthesisers in a band called Deep Hum and has less bad nights out these days.
Back to Wales Book of the Year