International Dylan Thomas Day 2017
Published Mon 9 Jan 2017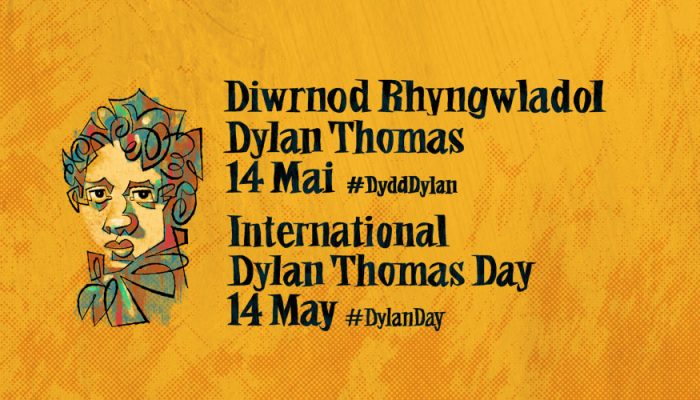 Poet and 'daring wordsmith' Mab Jones secures renewed contract to deliver the third International Dylan Thomas Day in 2017
Following on from her success in 2016, Literature Wales is pleased to announce that award-winning poet Mab Jones has secured a new contract to deliver International Dylan Thomas Day 2017 on behalf of Literature Wales, funded by Welsh Government.
Mab Jones, a lifelong fan of Thomas' work, was an active participant in the Dylan Thomas Centenary in 2014. She also delivered the hugely successful second Dylan Day in 2016, which saw over 50 events taking place across the world, directly engaging over 7000 people in Wales and abroad through a series of online and live events, social media activity, young people's writing competition and educational resources. Event highlights have included a sand sculpture of Dylan's portrait on New Quay beach; a bilingual cut-up poetry workshop in Cardiff; acclaimed artist Baba Brinkman's new rap on Dylan Thomas, shared via Facebook and YouTube; as well as events in many parts of the world, including London, Laugharne, Oxford, New York, Newport and Australia.
About International Dylan Thomas Day
As a legacy of the Dylan Thomas Centenary celebrations, Literature Wales has been granted funding over 3 years by Welsh Government to initiate International Dylan Thomas Day, celebrated on 14 May annually (the date Under Milk Wood was first read on stage in New York City). The inaugural International Dylan Day took place on 14 May 2015 and the event received great public attention both in Wales and beyond with thousands sharing their celebrations on social media from as far afield as New York and New Zealand.
If you are organising an event for International Dylan Thomas Day or want to find out more information about planned activity, you can
contact International Dylan Thomas Day Co-ordinator Mab Jones on intdylanthomasday@gmail.com
For additional information, visit the Dylan Day page on our website and www.discoverdylanthomas.com