Love Literature – by Cynan Llwyd
Published Mon 28 Nov 2016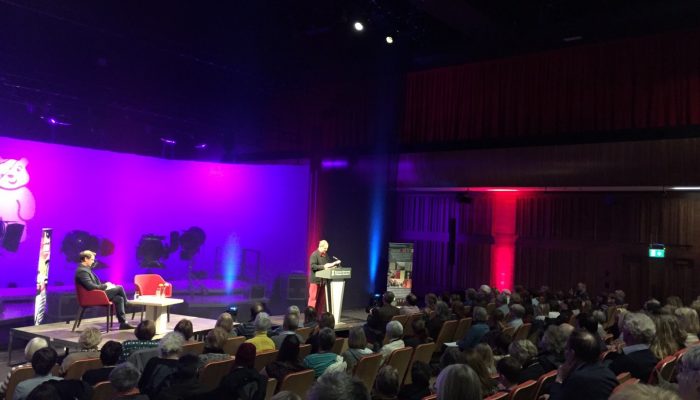 On Thursday 17 November, Michael Morpurgo, the major children and young people's author was at the brand new Great Hall of Swansea University's Bay Campus to discuss the art of writing. The lecture was one Centenary Lectures series, organised to celebrate a hundred years since establishing Swansea University. The Great Hall was packed to the rafters with people of all ages, and all present were gripped due to Michael Morpurgo's exuberant humour and powerful personal tales.
I say 'author', but that's not the label Michael Morpurgo would give himself. According to him, he is a storyteller rather than an author, since the magic and thrill of stories being read and performed is what's important to him.
He shared with the audience how he fell in and out of love with literature at an early age. His mother, who was an actress, would perform poetry to the two year old Michael, tucked up in bed.  The way his mother would bring the words to life thrilled him. But then, as a schoolboy, reading, literature and words became boring. Grammar lessons, endless facts and pages upon pages of the teacher's red biro highlighting mistakes and messy handwriting.
Eventually, Michael Morpurgo became a teacher at a junior school and he would read his own stories to the classroom at the end of the day. He noticed that they responded favourably and he saw in them what he experienced as a two year old, which was that "Literature is communication, the beauty of language…excitement". That is Michael Morpurgo's secret.
Michael Morpurgo doesn't lose sleep, doesn't sweat nor wrestle over exact plot point and the structure of sentences because he is a storyteller, not an author. "Don't force feed the plot!" he told us, but rather, "spend time in 'dreamtime'".
As Literature Wales' Children and Young People's Officer I want to see children and young people being thrilled and mesmerised by the excitement and magic that stories posses: stories that will lead them to their own "dreamtime".
One of the many ways Literature Wales achieves this is through the Bardd Plant Cymru project in partnership with Welsh Government, S4C, Urdd Gobaith Cymru and the Welsh Books Council. Anni Llŷn, the current Bardd Plant Cymru, leads fun, energetic and  interactive workshops which show children that words have life and that they're more than dead shapes on a piece of paper.
Anni's own experience was similar to Michael Morpurgo when she was a child. The sounds, magic and excitement of words were important to her. Her parents would recite stori-o-dy-ben-trwy-dy-geg (a story-from-your-head-through-your-mouth). These were completely original stories her parents would have to make up on the spot. Anni says that because of those stories she has "always been someone who enjoys thinking of good ways to use words…I enjoy challenging myself to compose a poem, to write a funny script or a tenacious story…I hope that children in Wales will experience a fragment of the enjoyment I have when I play with words".
Literature is a way for our children and young people to spend time dreaming and imagining amazing worlds. It's a way for them to escape their worries and to nurture self confidence and communication skills. It's the privilege of establishments such as our selves, schools, teachers, parents and guardians to bring words to life to the children and young people of Wales. If we do that, who knows what dreams will be imagined and worlds visited?